Comgenie's Awesome Filemanager v0.05!
Comgenie's Awesome Filemanager ist eines der besten utilities die es momentan für die PS3 gibt!
mit der kann mann durch das DateiSystem der PS3 "surfen"!
Natürlich kann man auch die USB Sticks die angeaschlossen sind durchsuchen!
Aber die wichtigste funktion ist das es Copy Paste hat!
den mann kann nun Spiele die man Runtergeladen hat oder zufällig sich auf dem pc befinden

auf eine Fat32 formatiertes USB gerät draufladen und es an der PS3 anschliesen!
So kann man dann das spiel in die intene Platte der PS3 verschieben und mit einem Tool zocken! und das mit sehr schneller geschwindigkeit!
zudem gibs da noch ein Nachteil!
den Fat32 unterstützt keine datei die mehr als 4GB ist!
aber dafür gibs ne abhilfe!
denn der pack beinhaltet ein PC tool womit man die datei die gröser ist als 4GB ist splitten!
und das PS3 tool entsplittet es dan später beim verschieben in die interne platte der ps3!
so wünsch euch viel spass damit!
Achtung! es dürfen keine leerstellen in den spiele ordnern sein! das spiel muss zb so heissen : "Uncharted.2.Drakes.fortune.JB.PS3" also keine Leerstellen! sonst kann der manager es nicht verschieben!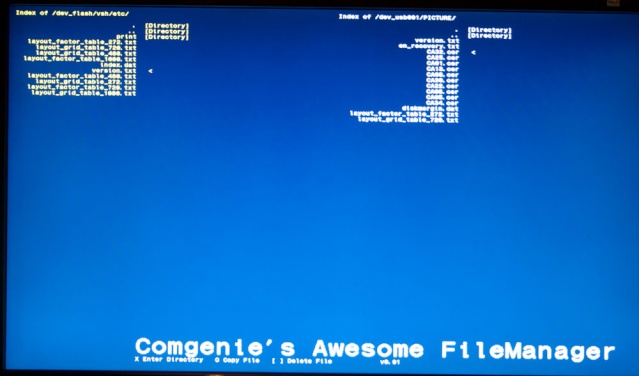 Changelog:Update in 0.05
- 0.05b hotfix: Longer names than 10 characters are now supported
- Added Confirmation Windows to prevent accidently copy and delete.
- Added filesize information
- Added Comgenie's Awesome Filesplitter (Windows) (.NET framework 2.0 is required!).
- Added Creation of new folders
- Added Renaming of files/folders
- More fixes for different screens
- Color highlight of the selected file

Update in 0.04
- Fix for different (SD) screens (bigger text on lower resolutions). Now the top bar is visible and text is always readable
- Added a copying progress text (which also fixed the hanging!)
- Added retrying on I/O errors while copying
- Added an about text
- Fixed several other minor bugs

Update in 0.03
- Added Scrolling
- Added Non-empty folder deletion
- Added a security option (Normal Mode/Advanced mode) where normal mode will only allow write access in /usb_dev and /usb_hdd0/game.
- Added the ability to backup up files over 4GB to external (explanation below)
- Fixed a hang-bug with folders with many files

Update in 0.02
You can now also copy directories, and delete empty directories!
The copying speed is also improved! (From external to internal i copied 8.11GB in 15 minutes). Known issues (will be fixed in a newer version):
- Not possible to copy/delete any files with spaces in it
- When copying things to the External USB, the files are marked as system files. Windows will not display them unless you turn them on as explained in.
[Updated]
Comgenie's Awesome Filemanager v0.06 Released
Changelog:
Update in 0.06
- Added move support for faster moving files/directories instead of copy/delete.
- Added very basic LUA support (only string/math libs + echo function). Expect much more functions to be supported in next releases
- Several fixes for (again) people with different screens
Im Paket ist einmal Für USB Jailbreak nutzer die PKG drin,
und noch eins das SIGNED ist für CFW 3.55 by GeoHot user
[Download v0.06]